In October 2016, makeup manufacturer M·A·C demonstrated its influence to redefine who is beautiful by releasing its limited edition Selena Quintanilla collection, in name of the beloved Latina vocalist. The collection itself was quite standard –  holding only 3 new shades of lipstick, 3 eyeshadows, a lipgloss, blush and bronzer, and repackaged M·A·C eyeliner and mascara –  but its premier in her hometown of Corpus Christi, Texas yielded extraordinary crowds of young Tejanas (Mitu). Those who were unable to visit Corpus Christi could order the collection online in honor of The Queen of Tex Mex for only five hours before it sold out ("The Meaning of Selena").
From the selenacomolaflor instagram on the premier of the collection
From the nenagiselle instagram on the premier of the collection
Selena Quintanilla is likely unfamiliar to most young women in the United States today. Many generations of Latinas, on the other hand, remember the artist's rise to fame as a strong-headed but charismatic entrepreneur, a wholesome daughter yet sexy fiance. Further, she was unapologetically Mexican American in her appeal to a diverse multi-generational, multilingual audience with a range of musical tastes ("The Meaning of Selena"). For those of us who were toddlers when Selena was tragically murdered in 1995 by the former president of her fan club, her legend was memorialized through the 1997 film Selena ("Grammy Winning Singer Selena Killed in Shooting at Texas Motel").
Selena's continued legacy as a Latina fashion icon is strikingly similar to the veneration of other transgressive Latin American figures through their various representations in Latino pop/consumer culture. For example, Mexican artist Frida Kahlo's (1907-1954) complicated history was taken to the big screen through the 2002 film Frida. The film and the widely circulated Frida merchandise (which deserves a separate blog post, evidenced through this gift-list for Frida fans) have arguably compressed Frida's legacy to her phsyique and relegated her a divine status that denies her full humanity. However, the reincarnation of Frida as an American Latina icon has also expanded her cultural significance beyond her world-renown artwork; her history with illness, unconventional features, and her unashamed style are celebrated as feminist triumphs against adversity. Even La Virgen de Guadalupe, whose image we saw on the cover of the anthology Chicana Lesbians earlier in the course, has become a American Latina icon that does not merely connote religiosity, but proudly asserts an indigenous Mexican heritage. Though Selena Quintanilla, Frida Kahlo, and la Virgen represent vastly different narratives, their refashioned forms and circulating images allow them to be celebrated as bridges between multiple worlds for Latino America.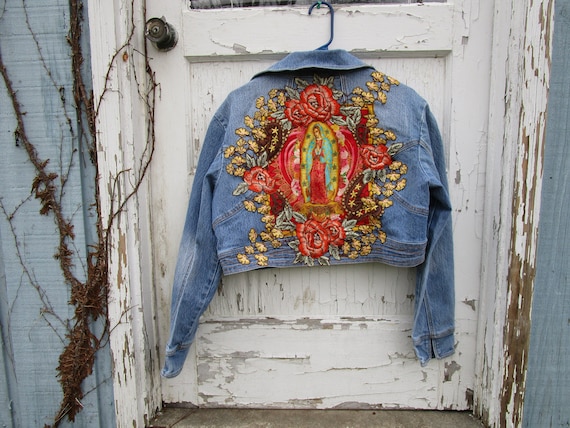 Frida y la Virgen from the pauline.plaudert instagram and the emmevielle etsy store
But does Selena's legend and the popularity of the M·A·C line suggest a repudiation of Old World Mexican culture for New World American youth? Vicki Ruiz's analysis of Mexican American women's confrontations with their parents' chaperonage illustrates the challenges of understanding beauty practices in mixed cultural spaces, where Mexican culture can be dangerously described as inherently more patriarchal and conservative. She describes the popular findings of social scientists, that typically portray women as the "'glue that keeps the Chicano family together' as well as the guardians of traditional culture'" (Ruiz 54). Ruiz counters,
"Mexican-American women were not caught between two worlds. They navigated multiple terrains at home, at work, and at play. They engaged in cultural coalescence. The Mexican-American generation selected, retained, borrowed, and created their own cultural forms. Or as one woman informed anthropologist Ruth Tuck, 'Fusion is what we want – the best of both ways'" (Ruiz 67-68).
Ruiz allows us to situate the persistent appeal of Frida's, la Virgen's, and Selena's icons within the borderlands of the United States – both in the region of Tex Mex and in the cultural space of American Latinidad. More importantly, though, the popular reception of Selena's M·A·C collection illustrates the shifting of Latina figures' symbolic meaning through their reproduction. Despite her death, Selena was not merely "frozen in time." Rather, her revival through the M·A·C collection allows for Tejanas to continue embodying multidimensional forms of femininity and Latinidad, even those forms created by corporate interests.
Vicki Ruiz, "The Flapper and the Chaperone," in From Out of the Shadows: Mexican Women in Twentieth-Century America (New York: Oxford University Press, 1998).